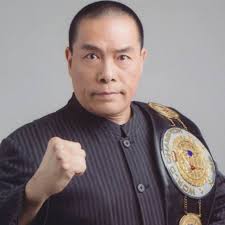 The World Complete Martial Arts Federation (WCMAF) was officially incorporated on the 29th of April 2019 in Singapore with the approval of the Accounting and Corporate Regulatory Authority (ACRA) and Ministry of Education (MOE) (UEN: 53397218C). The Federation also acquired approval to open a Martial Arts academy as well as to organize a world-class CMA Complete Martial Arts Championship, thus allowing international martial arts culture to permanently take root in Singapore.
The incorporation of the World Complete Martial Arts Federation can be traced to Founder and Grandmaster Carter Wong in 1980. Using Shaolin Kungfu as the main foundation, he combined Wudang Qi Gong(internal breathing), Dragon Shaped Fist, Bai Mei Fist, Hong Fist, Cai Ling Fo Fist, Muay Thai, Karate, Taekwondo and Hapkido into one complete martial art and founded the Complete Martial Arts Association in Hong Kong. Subsequently he travelled to countries across the five major continents, including America, Canada, Hungary, Brazil, Australia, China, Japan, Korea, Thailand, Cambodia, Malaysia and Singapore to promote and impart his Complete Martial Arts (CMA). Grandmaster Carter Wong has dedicated his entire life to learning from the best masters of each martial art, and continues to evolve and perfect his Complete Martial Arts into a world-class martial art by incorporating the essence of even more forms of martial arts from around the world. He has also groomed many disciples who used CMA as their foundation to win European and World Championships in Muay Thai and Kickboxing etc. To date, CMA schools have been established in 36 countries.
Before he began to groom other champion fighters, way back in 1972, Grandmaster Carter Wong had already won the 68kg Weight Class Champion Golden Belt in the "World Muay Thai Competition" held in Bangkok Thailand. In 1986 he fought at the "World Muay Thai Championship" held in Caesars Palace Las Vegas and used Complete Martial Arts to win rival Mr. Ximenge, earning himself the prestigious 75kg Weight Class Champion. Apart from promoting Complete Martial Arts to people from all over the world regardless of race or religion for over half a century, Grandmaster Carter Wong has also been invited to instruct at various government organizations. These include the Royal Hong Kong Police Force in 1979as their chief karate instructor, teaching practical martial arts to the United States Marine Corps in 1990 and the New York Police Force in 1994, Hungarian Police Force (Rendorseg) in 1999, Brazil Sao Paulo Military Police Academy in 2000 as Chief Instructor for Complete Martial Arts and the Cambodian Security Services Academy in 2002 as their VIP Honorary Principal. At the same time he has also imparted Complete Martial Arts to military police personnel in various cities in China, including Beijing, Sichuan Xi Chang, Mongolia BaoTou, Guangzhou Zhu Hai etc. Over the last 50 years he has received many awards and recognitions and recently became Honorary Advisor for the International Police Association (IPA) Macau section in 2018. In 2019, Grandmaster Carter Wong was officially appointed the Chief Advisor for International Martial Arts of the Federation of World Cultural and Art Society Singapore (FOWCAAS) with members in 75 countries. To date, his disciples and their disciples span five generations and number 280,000 people all over the world.
Grandmaster Carter Wong is also a prolific actor, having starred in over a hundred Hong Kong kungfu movies, such as "Hap Ki Do (1973)", "When Taekwondo Strikes (1973)", "18 Bronzemen (1973)", "The Skyhawk (1974)"and a series of classic Shaolin Kungfu movies that were very popular and also well-received by Southeast Asian audiences. In 1973, both Grandmaster Wong and Bruce Lee were then under the same movie company Golden Harvest and Grandmaster Wong frequently had the opportunity to exchange bouts and pointers with the legendary Bruce Lee. That era also marked the beginning of Chinese Kungfu Movies gaining international recognition, and Grandmaster Wong was invited to star in Hollywood films such as Hard Case And Fist; Tiger Claws Part 3; (20th Century Fox) "Big Trouble in Little China" (1986) etc. Most notably, Grandmaster Wong was also hired as the Acrobatics and Fight Trainer for Hollywood action star Sylvester Stallone's hit movie "Rambo 3: First Blood".
Looking back at the 1970s when he helped shape the English term 'Kung Fu', Grandmaster Carter Wong now wants to dedicate his life to continuing the next chapter of his Kung Fu legacy by using Complete Martial Arts (CMA) to attain another new peak. Currently, the World Complete Martial Arts Federation (WCMAF) and Federation of World Cultural and Art Society Singapore (FOWCAAS) founded by Grandmaster Jason Tan are working closely together to bring together their joint members from over 80 countries to actively form a core team to gather the best martial arts talent and resources from each country. 
Plans are also underway to organize the inaugural World Complete Martial Arts (CMA) Championship as the first step to achieving the long-term goal of developing WCMAF into the premier international martial arts platform, using martial arts to promote the importance of a healthy mind and body and a positive martial arts culture.